Sessions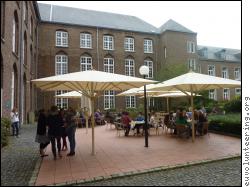 7th Meeting of the European University for Volunteering, 2014, Rolduc / NL and Aachen / GER
From 9 to 12 September 2014, the seventh European University on Volunteering (EUV 2014) took place in Aachen (DE) and Rolduc (NL). Under the theme "Citizenship: Responsibility for Democracy and Social Participation", students, practitioners and citizens from all over Europe were warmly invited.
Goals and topics
A Europe of citizens thrives on a lively exchange about civil society and the importance of civic engagement in the respective societies - this is what the EFU 2014 serves.
For a common democratic Europe, the social participation of all people is constitutive. The 2014 EFU focused on the exchange of responsibility, democracy and social participation.
The thesis of the Volunteer University 2014 reads: Civic engagement implements the three foundations of all European societies:
Democracy,
Social participation and
Responsibility in very different initiatives and forms of participation.
The European countries are challenged to recognize the democracy that is lived by citizens, their responsibility for civil society and the human right to social participation of all as fundamental rights.
The All-European Democracy Project is being continued by dedicated citizens - the 2014 EFU contributed to the following events:
"Are all really welcome?" - Exclusion processes in civic engagement
"I cooperate, so I am ... human!"
Civic engagement in a migration society - a dialogic perspective
Social commitment and democracy - unused opportunities
Opportunities and forms of children and youth participation
International Voluntary Services - Commitment worldwide
Climate change between the generations? - How to combine intergenerational learning and civic engagement
Monetization of volunteer work? - when money plays a role in engagement
Binding as a prerequisite for cooperation
Family sponsorships - volunteering for children and families
Gentrification - civil society resistance to the displacement of urban poor
Between the worlds - the civic contribution of international aid organizations
Is human dignity divisible? About humiliation and responsibility
Voluntary work and organization - The acquisition of full-time employees as the core issue of volunteer work
Commitment to the repressive environment - The role of civil society in Turkey
Civic engagement as a contribution to the deescalation or escalation of violent dynamics - food for thought from the perspective of conflict-sensitive development cooperation
Charisms and Spiritual Dimension in Volunteering
Migrant Self-Organizations (MSO) - ways out of the niche
How inclusive are social institutions? - Implementation of volunteer work in institutions
Volunteer Centers (FWZ) - in the area of tension between subsidiarity and instrumentalization
Everything for the nation? - Extremely right-wing strategies and civil society
CyberVolunteering - a new form of citizen participation
Citizens' initiatives in the district - a district comes alive
Community Care and Citizenship
Further information: http://www.efu2014.de
Thomas Möltgen, Cologne